Black Dawn Rebirth
Black Dawn: Rebirth brings the popular Amiga dungeon crawler RPG series into the 21st Century.
It is both the ideal entry point into the Black Dawn universe for a new generation of players, and an opportunity for fans of the series to continue their adventure. It has better graphics and sound than ever before, and includes more levels, more monsters and more puzzles than any other Black Dawn game. Are you ready for the challenge?
Star date: 2621 The TFS Sentinel is en route to Base DS97 to investigate a communications blackout. Star system: Thalax Planet: Thalax 9 Ensign Bren is dispatched to investigate the base. Bren takes his scout ship into orbit around the planet, a routine mission. Planetfall is uneventful. From the outside, the base seems operational and undamaged, yet, something does not feel right. Bren dons his life support system and depressurises the cockpit. The canopy whirrs open, revealing a thin and clear atmosphere. The entrance yields to the ensign's authorisation code. As he descends into the lower levels, a bad feeling creeps upon him.
Design & code: Shaun Watters Graphics: TenShu Music & Sound: Mike Richmond Introduction code: Colin Vella
Featuring:
64 colours on screen
7 dungeons (21 levels) to explore
14 different weapons
21 different types of enemies (3 per dungeon)
Amazing animated introduction using an entire floppy!
PAL / NTSC compatible
Hard drive installable
Requires at least 1.5Mb of ram (of which 1Mb must be chip ram)
3D movement effects available for faster Amiga.
Download
Click download now to get access to the following files:
Comments
Log in with itch.io to leave a comment.
Will you release an AGA 256 colors version too?
Saw the article in ZZAP! and had to buy a copy, having a blast so far.
No issues running it on a MiST with the AGA FPGA core.
I'm getting error "Unknown command echo" on the AmigaDOS prompt when booting off disk 1 on a Gotek floppy emulator. Disk 0 starts booting but hangs at a black screen.

My Amiga 500 is an NTSC system, stock Kickstart 1.3 with 1Mb chip + 1.5Mb slow RAM.
Any suggestion on how to address these issues? Does this game require a different Kickstart version?
Update: I figured out that I can manually launch the 'BD' executable from the AmigaDOS prompt after that error. It proceeds to load the main menu, I start a new game, it asks for Disk 2, proceeds to a loading splash screen, but after a good minute or so of activity the computer crashes into a Guru Meditation every time. The memory address where it crashes seems random each time.
Update#2: The crashes were a problem with my memory configuration. What remain are 1. booting from BDR0 hangs at a black screen, and 2. the BD executable has to manually launched when booting from BDR1. Anyhow, I can enjoy the game now. :)
Update#3: The problems with the intro disk and startup error seems to have been on Kickstart 1.3 only. When booting my machine with Kickstart 3.1, both disk 0 and disk 1 launch without errors. You may want to consider adding full compatibility for Kickstart 1.3 users!

I have a question , is this game playable on a amiga 500 ?
If you have a superfat agnus and have installed 1MB of chip ram and some form of additional 512kb of ram, then yes.

So only some a500s could do this (late run) and only expanded.

Hello there, elegant move to put your (fine) game on "name it your own price". Maybe you can add another mean of payment for those who don't want to use paypal.
Anyway, I think you left debug values display on the top left corner :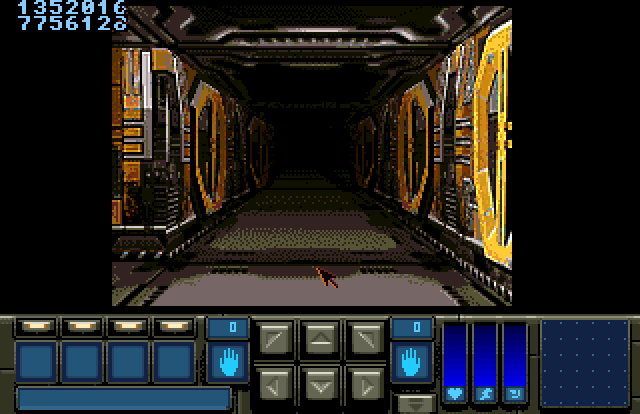 I guess these are chip and fast free ram values.

Is there a command line or an option to get rid of these ?

It happens with floppies or hard drive installed game (nice HD installation program by the way), I also tried to boot with disk 1.

Thanks again

I also noticed a small glitch. After using a computer, borders are not displayed anymore. Here is an example :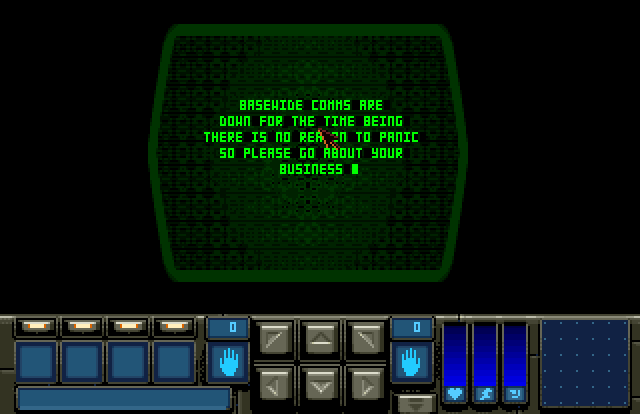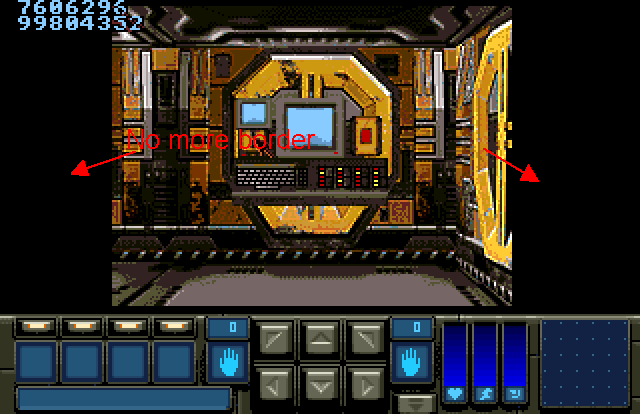 Maybe you uploaded an unfinished version ?

Ok. A Last thing, but may be it's the way it's supposed to be, I'm not sure.
Whenever the lateral animations or the 3D options are enabled, they are only available when playing with keyboard. If you play with the mouse and icons, animations do not occur.
Hey Marskilla, I should get you to do testing of the new one :) - i`ll get all of them fixed this morning, i`ll drop a line on here when they done!
Wow, that's fast !
I feared you get my messages the wrong way, I'm glad yout happy with them.

If you want a perfect version, there is something else you could do to handle the keyboard input.
I guess you used the amos INKEY$ command to detect "W,A,S,D" input. Which is fine.
The drawback with this method for french users is that the keys are "Z,Q,S,D" with an AZERTY keyboard if they have the workbench loaded.

So they have to identify the problem by themselves and switch back preferences to american keyboard in order to play.
There are two things you can do (if you wish) with this problem : use the SCANCODE to indentifiy keys or allow to redefine keys, which is more complex to do (saving options...) but valuable for all players.

Anyway, this is more an evolution than a correction, please consider that as a "nice to have".
No problem for me with testing your new game, but as they say "be careful with what you wish, as you could have it" :)

I am actually using scancodes just not (for some reason) not on the WASD...... let me knock you up a version......

Hello,
Thanks for the game, I bought it. Is it possible to have the game manual please?
Thank you very much
Hey there you certainly can, I`ve added a pdf of the manual to the downloads
Hello,
I am using Google translate, hope the translation is good.
I am using Amiga Forever to play the game, I installed Classic Workbench with WHDLoad on Amiga 1200. I installed the game on the hard drive. In Amiga Forever there are Kickstart roms that can be recovered to use WHDLoad. To emulate the Amiga I recommend Amiga Forever. Watch the tutorials for Amiga Forever and the WinUAE emulator and Classic Workbench on YouTube. I could upload (on my Mega Cloud) the embedded .rp9 file that I created with Amiga Forever. So I should remove the Kickstart roms for legal reasons.
Thank you very much
Hi there if you want to send me the rp9 file ( minus the kickrom) that`d be great - would be another option for people downloading the game
Hello,
I would like to send it to you, but I cannot, because Workbench 3.1 is used. I should do a tutorial on how to install everything and explain what files are needed, but not yet. Using the Workbench is preventing me from sending it to you, I don't want to have a problem. I should do a tutorial and explain where to find the files. On my Mega Cloud link there are emulators that come from the EmuFrance site and tutorials that come from YouTube. I would really like to send you this rp9 file but I cannot. We have to be careful and stay within the law to avoid having problems. I don't want a developer to have problems because of me. Otherwise there is Amiga Inside 5.3 (Amiga Museum) but the site is Blocked by Malwarebytes antivirus and the pack contains games. I don't know if the games contained in this pack are abandonware or not and therefore you have to be careful. Amiga Inside Works with the WinUAE emulator and everything is already configured to be able to use the emulator very easily. If Malwarebytes is blocking the site you should beware or ask Malwarebytes to check why it is blocked. I would like to help you because I am passionate about emulators and Amiga computers.
Thank you very much
Hello,
I will try to do a tutorial when I have time and I will post it on my YouTube channel. This tutorial will concern the installation of WHDLoad with Classsic Workbench on Amiga 1200 with Amiga Forever. That way we won't have to provide the files. At the moment, I don't have time to do it.
Thank you very much
Hello,
I just thought that .rp9 files are only usable with Amiga Forever. And the kikstart roms and the Workbench are included in Amiga Forever. And so I believe there is no problem if we pass a .rp9 file to someone who uses Amiga Forever. I was stupid. I put the .rp9 file on my Mega Cloud.
Amiga 1200, Classic Workbench updated with Workbench 3.1, WHDLoad, Embedded, All keyboards : The .rp9 Embedded file is here: https://mega.nz/#F!siQF0bLJ!5oX1Py6Ttn309y9pJWaVLA
Emulators for Windows 10 x64 / Commodore Amiga / Amiga Forever / .rp9 Embedded Systems /Amiga 1200 Classic Workbench WHDLoad Workbench 3.1 Embedded All keyboards/ Amiga 1200 Classic Workbench WHDLoad Workbench 3.1 Embedded All keyboards (Commodore-Amiga, 1992, Amiga).rp9
The file "Amiga 1200 Classic Workbench WHDLoad Workbench 3.1 Embedded All keyboards (Commodore-Amiga, 1992, Amiga).rp9" must be put in the "Systems" directory of the "Amiga Files" directory of Amiga Forever.
Thank you very much